Central Havana at a glance
Top Sights
A walk down the Malecon waterfront
Visit the emblematic Capitolio
The China Town of Havana - Barrio Chino
Visit the Tobacco Factory Real Fabrica de Tabaco Partagas
Walking through the ver lively street of Centro Habana observing the colorful street life
Accommodation offers in Havana
Tourism Central Havana

Culture |
History |
Nightlife |
For tourists, it's difficult to distinguish exactly where
Habana Vieja
ends and where begins the Centro Habana begins. Centro Habana municipality is the smallest and most populated district of
Havana
.
It's surrounded by the waterfront ("Malecón") in the North and the "Paseo del Prado" in the East. It extends up until the "Hotel Nacional" in western district of
Vedado
.
Centro Habana is the most important district of Havana in terms of trade and services. Although next to Habana Vieja, the cultural and historical center, Centro Habana represents the transition from the old to modern city. With less than just 5 square kilometers, it is a very interesting area, with many attractions. Here you can take a stroll and connect with the local "Habaneros" as they go about their everyday lives.
Sights in Central Havana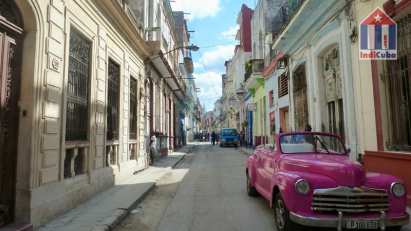 Central Havana is noisy and bustling by both day and by night. This used to be a zone mainly inhabited by workers and the lower middle class. The monuments that adorn the streets here are important sculptures of great beauty and elegance!
Known as the "city outside the walls" (ciudad de extramuros), "Centro Habana" symbolizes a new era. Here, you can see how the architecture and lifestyle changed, including influences of other cultures that have left their landmark in this part of Havana.
---
Capitol of Havana
( Capitolio )
between the streets "Prado", "Dagones", "Industria" & "San José"
Although it was conceived in a time of great economic downturn, with a high cost of approximately $17 million, the Capitolio now stands as the pride of the Havana city's architecture. Building started in 1926. The Capitolio was first home to Houses of Congress. Today it houses the Academy of Science of Cuba and the National Library of Science and Technology.
Due to its stunning architectural features, the Capitolio of Havana is considered to be amongst the six most beautiful palaces in the world. One of its most valuable pieces includes the magnificent bronze statue inside, representing "La República". 15 meters high and weighing 30 tons, it's surpassed only by the Nava Buddha in Japan and the Lincoln Memorial in Washington.
The other piece is a wonderful replica of a diamond of 25 carats (which replaced the original for safety), located just beneath the imposing dome, from which all distances are measured in the country.
Chinatown
( Barrio Chino )
behind the "Capitolio"
In 1847, a wave of Chinese came to Havana to work on the sugar and coffee plantations. Their shrewd business skills helped them to prosper quickly and soon they formed their own neighborhood within the city.
The "Barrio Chino" in Havana is located between the streets of "Amistad" and "Dragones". The first businesses were an inn and a fruit stand. Later followed businesses like laundries, restaurants and casinos - converting Havana Chinatown in one of the most important districts in the area.
At the moment, there are very few Chinese left but their descendants that have mixed with other races can be seen all over the area. Although the "Barrio Chino" has lost much of its authenticity, it retains some good restaurants, a few Chinese societies and an edited Chinese newspaper.
Great Theater of Havana
( Gran Teatro )
Corner "Paseo del Prado" & "San Rafael"
With its spectacular architecture, the Grand Theater of Havana opened in 1838, and became one of the greatest opera houses in the world. Admire its impressive facade, designed by the Italian Guiseppe Moreti. The four sculptures that guard the building represent Charity, Education Music and Theatre.
As one the most important cultural institutions in Latin America, its stage has received many artists and internationally renowned companies such as Sarah Bernhardt, the Royal Ballet of London and the tenor Enrico Caruso.
Currently, the Grand Theater offers performances of the "Ballet Nacional de Cuba" and many others. In the building there are different theaters, concert halls and visual art galleries. The "Gran Teatro" also hosts international festivals like "The Footprint of Spain" ("La Huella de España") and the "Festival de Ballet de La Habana". If you want to discover a new facet of Havana and enjoy one of the artistic representations, don't hesitate to visit the greatest Cuban Theater.
Prado Promenade
( Paseo del Prado )
leads from the "Capitolio" to the waterfront "El Malecón"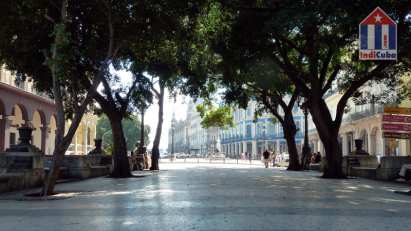 That is one of the most attractive streets in Havana. The lions that guard the street are bronze and have a fascinating history.
Tobacco factory
( Real Fábrica de Tabacos )
"Calle Industria" nº 520 (behind the "Capitolio")
This is the oldest and most prestigious cigar factory in Havana and was founded by the Spanish Jaime Partagas. It employs about 400 skilled workers who select, press and roll the best cigars - "Lusitanias", "Montecristo", "Churchill" and "Cohiba Espléndidos".
The quality is top-notch. In the factory there is a little shop and a bar, where you can enjoy a good cigar.
National ballet school
( Escuela Nacional de Ballet )
corner "Paseo del Prado" and "Trocadero"
This is the most prestigious dance school in Cuba and one of the largest in the world. 4350 carefully selected students are trained here to become later part of the National Ballet. Interested people can go there to get information about courses and workshops.
Yoruba Cultural Association of Cuba
( Asociación Cultural Yoruba de Cuba )
"Paseo del Prado" No. 615
In order to understand the true African heritage of this Caribbean island, you should visit this fascinating place. Exhibitions and ceremonies related to Santería-cult and Yoruba beliefs rooted in Cuba.
Fountain of the Indian
( Fuente de Las Indias )
beside the "Capitolio"
Beautiful fountain made in 1837 in white Italian Carrera marble.
Fun, Leisure and Sports in Central Havana
An evening on the Malecon waterfront
Just take a seat on the Malecón wall by the sea and enjoy the atmosphere. Cubans a very curious and you will get in touch fast.
Restaurants & Paladares
Restaurants
Restaurant "Prado nº 264"
Authentic Cuban restaurant with simple but very tasty dishes. The decor is a little long in the tooth - see it as a little journey through time.
Restaurant "Tien Tan"
One of the most famous Chinese restaurants in the "barrio Chino" district of Havana Cuba. The price of a meal is around 10 CUC.
Paladares
Paladar "Doña Blanquita"
In this private-run paladar-restaurant you get good value for price, overlooking the "Prado" Boulevard. Price for a dish: between 6-10 CUC. Recommendation: "Ropa Vieja".
Paladar "Bellamar"
Family business that serves the typical Cuban Creole dishes, based on chicken, pork, but also fish. 7-12 CUC.
Bars & Clubs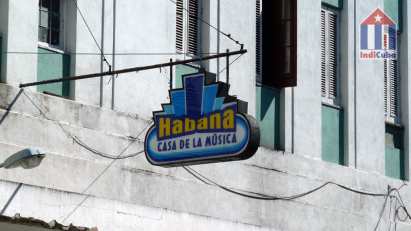 Bars
Bar "Nautilus"
Bar in Havana with submarine look. Private atmosphere.
Bar "Prado nº 12"
Here the clack simply stopped in the fifties.
Café Bar "La Logia"
Nice café in the "Capitolio".
Nightclubs
"Casa de la Música"
One of the most important and most popular cultural locations in Havana. Almost daily concerts of current Cuban musicians and bands. With a little luck you'll see some Cuban stars.
"Cabaret Nacional"
Very centrally located in the basement of the "Gran Theater". The evening starts with a small dance show and after you can dance to Salsa & Disco rhythm's. Only couples allowed!
Sights
Capitol of Havana
Chinatown
Great Theater of Havana
Prado Promenade
Tobacco factory
National ballet school
Yoruba Cultural Association of Cuba
Fountain of the Indian
Fun & Leisure
An evening on the Malecon waterfront

Hotels
Hotel "Saratoga"
Hotel "Lido"
Hotel "Caribbean"

Tourist Office
Infotur "Calle Obispo" (belongs to Central Havana but very near)
Money Exchange
CADECA - "Avenida Carlos III" / Corner "Calle Marquéz González"
CADECA - "Calle Neptuno"/ Corner "Calle Consulado"
CADECA - Hotel "Deauville": "Calle Galiano" / Corner "Malecón"
CADECA - "Calle Zanja" / Corner "Calle Soledad"

Shopping
"El Bulevar" - "Calle San Rafael" (many various stores - including souvenirs)
"La Época" - "Avenida de Italia" / corner "Calle Neptuno" (clothing)
Hospital
Hospital "Freyre de Andrade" (as well called "Emergencias")
"Hospital Hermanos Ameijeiras" (Centro Habana - "Calle Neptuno" / "Calle Marquez Gonzalez")
especially for foreigners "Clinica Central" - "calle 20 nº4101" / Ecke "Avenida 41" (municipality "Playa")
Car Rental
"Havanautos" & "Cubacar": "Calle Galeano" / Ecke "Calle Concordia"
"Havanautos": "Hotel Deauville"
"Gran Car" - vintage car rental (normally to find in the front of the "Capitolio")
Restaurants
Restaurant "Prado nº 264"
Restaurant "Tien Tan"
Paladares
Paladar "Doña Blanquita"
Paladar "Bellamar"
Bars
Bar "Nautilus"
Bar "Prado nº 12"
Café Bar "La Logia"
Nightclubs
"Casa de la Música"
"Cabaret Nacional"