Top-Attractions
Che Guevara - the legendary memorial in Santa Clara Capital
Remedios at Christmas time for the Parrandas celebrations
The deserted beaches of Cayo Santa Maria and Cayo Las Brujas
Trekking in the Sierra del Escambrey
Accommodation Villa Clara
Tourism Villa Clara

Culture |
History |
Relax |
Villa Clara province is located in the central region of the Cuba between Matanzas, Sancti Spiritus and Cienfuegos. The capital city "the city of Che", is home to the famous Che Guevara memorial that draws visitors from all over the globe.
Attractions in Villa Clara Province include the stunning Cayo Santa Maria, Los Remedios town and the Sierra del Escambrey mountain range - a nature lover's paradise, with endless trekking opportunities.
Santa Clara capital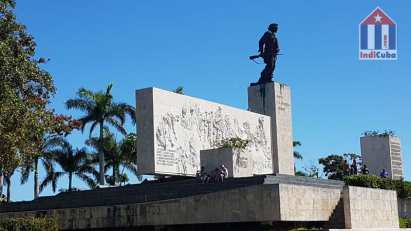 The capital city is home to one of Cuba's most important universities and bursting with young intellectual energy. It's a great place to go out and meet people. It's also packed with tons of historical stuff, which can get a bit boring after a while. The Monument Ernesto Che Guevara is its most notable asset - and nowadays a huge tourist attraction. It's a mausoleum and museum complex rolled into one, guarded by a massive statue of "El Che" himself. Casas Particulares in Santa Clara you'll find a lot, right in the center of the city. There are some Hotels in Santa Clara, if you look for full service.
Sights in Villa Clara
Remedios
This laid back colonial town is one of the prettiest and most peaceful in Central Cuba. It's probably best known for its dramatic Christmas festival "Las Parrandas de Remedios", which takes place between the 16th to the 26th of December every year. The two opposing neighborhoods face off against each other with fireworks floats, dancing competitions and all manner of fiesta and fun!
It is a spa with springs rich in sulphides where the temperature reaches 50 °C. Mud therapies, massages and hydrotherapy are offered. The site enjoys a very good reputation for its medicinal treatments.
Beaches in Villa Clara
The northern coast of Villa Clara is home a number of small islands with some amazing virgin beaches. Along with Cayo Santa Maria, you have Las Brujas, Fragoso, Cobos, Ensenachos and Frances Cayo. The beaches here remain untouched by tourism but this is changing fast.
"Cayo Santa María" & "Cayo Las Brujas"
Two of the best beaches are on Cayo Santa Maria and Cayo Las Brujas.
Cayo Santa María
Known as the "White Rose" of the Jardines del Rey Archipelago, Cayo Santa Maria is a small Paradise Island just 13 kilometers long and two kilometers wide. This virgin beach has brilliant fine white sands and glistening blue waters. There are three hotels on Cayo Santa Maria run by the hotel chain "Sol Melia".Santa Maria has over 11 kilometers of fine white sandy beach, plus a wealth of flora and fauna.
The diving here is top class, with a colorful variety of coral and crystal clear waters teaming with tropical fish. There are over 24 dive sites here on this small island.
Cayo Las Brujas
The other key "Cayo Las Brujas" is a tiny castaway type island with just under two kilometers of pristine white sandy beach. The white sands and sparkling waters are some of the purest you likely to see in the whole of the Caribbean. Both Cayos are home to large numbers of plant and animal species that can be found nowhere else in Cuba.
Cayo Las Brujas
Las Brujas is a small island with just under two kilometers of beach. The white sands and crystalline waters are some of the cleanest that can probably be found throughout the Caribbean. In addition to hosting a small and cozy villa, just like Cayo Santa Maria this island is home to numerous plant and animal species endemic to the area.
As well as Che Guevara, Villa Clara has many attractions - from beaches and mountains to quaint colonial towns and idyllic little islands. Some of the best casas particulares in Villa Clara can be found in the capital city and Remedios. If you're looking for a hotel in Villa Clara a good bet is the Hotel Santa Clara Libre on Parque Vidal.
Beaches
Playa Ganuza
Playa El Salto
Playa de Duran
Playa de Punta Gorda (Isabela de Sagua)
Playa Colorado
Playa Uvero
Playa Pinon
Playa Nazabal
Playa Juan Francisco
Playa Jinaguayabo
Private accommodation ("casas particulares")
Santa Clara
Remedios
Caibarien



Train station
Santa Clara
Placetas
Santo Domingo
Isabela de Sagua
Caibarién
Car rental
Santa Clara: "Hotel Santa Calara Libre"

Internet - Public wifi
Santa Clara: Parque Leoncio Vidal