Sancti Spíritus at a glance
Capital City
Sancti Spiritus

Top-Attractions
Exploring the colonial capital city of Sancti Spíritus
Playa Ancon, with its soft sands and warm cozy waters
Trinidad's music scene and colonial vibe
Hiking and trekking in the stunning Topes de Collantes
Accommodation Sancti Spíritus
Tourism Sancti Spíritus

Beaches |
Culture |
History |
Nature |
Relax |
Located in the heart of central Cuba, Sancti Spíritus province has a lot to offer - from beautiful coastlines and mountains to meticulously preserved colonial towns. It's one of the most popular parts of Cuba for this reason. It's like a beachside vacation and cultural experience all thrown into one.
Sancti Spiritus City - Province Capital
Sancti Spíritus is the oldest town in inland Cuba and dates back to 1514. It's a chilled out place with some enchanting colonial architecture - pretty pastel facades looking out over narrow cobblestone streets. A distinctive colonial presence can be felt in most parts of the town.
Some of the most interesting colonial buildings can be found in the Parque Serafín Sánchez area. Other places well worth a visit include: Antigua Farmacia, Provincial Museum of History, Iglesia Parroquial Mayor and the bridge on the river Yayabo.
Sights in Sancti Spíritus
Trinidad
Petite and romantic, Trinidad is one of the most charming Colonial-era cities in the whole of the Americas. It's home to the largest church in the country (Iglesia Parroquial de la Santísima Trinidad) and a spectacular blend of Moorish, Neo Classical and Baroque architecture in the old part of town. Trinidad is now a UNESCO World Heritage Site.

Just out of town there are some stunning beaches (including Playa Ancón) and the San Luis Valley - an idyllic piece of countryside dotted with fascinating castles, slave houses and rustic haciendas.

Coming here is like taking a trip back in time. You'll be mesmerized by the beautifully restored homes, stately houses, tiled courtyards and lovely natural surroundings. Not surprisingly, Trinidad is now one of the most visited towns in Cuba.
Topes de Collantes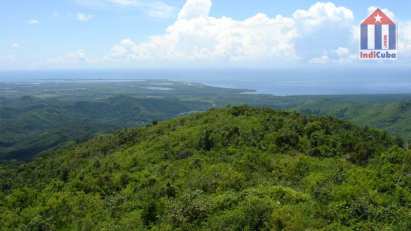 The largest settlement in the Sierra del Escambray Mountains is Topes de Collantes - a health resort town, almost 800 meters above sea level. The views from here out over the province are out of this world. There are two hotels in Topes de Collantes and a camping area. Hiking is very popular here, especially the Salto de Caburni route, with its cool swimming holes on route.
Beaches in Sancti Spiritus
The beaches in the province of Sancti Spiritus you find in the South near Trinidad.
Here as well is provided a good touristic infrastructure (overall the most famous beach Playa Ancón), so that you can enjoy those beaches in Trinidad living in a casa particular in Trinidad (about 5 minutes away) or in one of the comfortable (but much more expensive) beachfront hotel in Playa Ancón.
Beaches in Trinidad: Playa Ancón
Playa Ancón is four kilometers long, making it the largest beach on the south coast of Sancti Spíritus. It's a gorgeous stretch of white sandy coastline with calm blue waters teaming with tropical fish - perfect for snorkeling and scuba diving. There's a spectacular reef just a few hundred meters offshore. At Ancón Hotel, they do beginners courses in scuba diving.

Playa Ancón is not as touristy as say Varadero or Guardalavaca, so can be a good choice if you want a more authentic Cuban beach holiday. If you can't afford to stay at the resorts you could always try a private room - casa particular in Trinidad, Casilda or La Boca.
Beaches in Trinidad: Playa María Aguilar
In nearby María Aguilar beach, you'll find warm and shallow waters, home to a stunning array of tropical fish along with pretty coral, sea fans and sponges.
Sancti Spíritus province has something for everyone - stunning colonial architecture, beautiful beaches and landscapes along with endless sunny skies and excellent diving. Hotels in Sancti Spíritus are very welcoming to foreigners and the casas particulares in Trinidad are some of the best in Cuba.
Beaches
Playa Ancon (Trinidad)
Playa La Boca (Trinidad)
Playa Borfill
Playa de Carbo
Playa Victoria
Private accommodation ("casas particulares")
Sancti Spiritus
Trinidad
Cabaiguan



Train station
Sancti Spíritus
Trinidad
Tunas de Zaza
Taguasco
Cabaiguán
Jatibonico
Car rental
Sancti Spiritus
Trinidad, Hotel Ancon

Internet - Public wifi
Sancti Spiritus: in the park in the center of the city "Parque Serafín Sánchez"
Trinidad: Plaza Carillo square