Top-Attractions
Varadero, for that uncomplicated "fun in the sun" holiday experience
Scuba diving between Playa Larga and Playa Giron
The capital city of Matanzas with its important cultural offer
Nature - go bird watching or check out the crocodiles at Cienaga de Zapata (the largest swamp in Cuba).
Sports - everything from sailing, snorkeling, kiteboarding and skydiving to golf.
Tourism Matanzas
Beaches |
Nature |
Nightlife |
Relax |
Matanzas is Cuba's second largest province and home to its largest tourist resort - Varadero. There are well over 50 hotels in Varadero, along with one of the finest beaches in Cuba.
In the south there's the famous "Bay of Pigs" and "Playa Girón" beach. Inland there's the stunning Valley of Yumuri with its wholly enchanting landscape.
Matanzas - Capital city
Matanzas is often referred to as the "Venice of Cuba" because of its many bridges. In total there are 17 crossing the three rivers (Rio Yumuri, San Juan, and Canimar). It's also known as the "Athens of Cuba" for its many poets and famous Afro-Cuban folklore.
Matanzas is located east of Havana, 32 kilometers west of Varadero.
Sights in Matanzas
Varadero
Varadero town is located on a peninsula, between the Bay of Cárdenas and the Straits of Florida. It's one of the most exclusive parts of Cuba, packed with top class hotels, stunning stretches of beach and even a golf course. Varadero is one of the largest resort areas in the Caribbean.

The main airport here is "Juan Gualberto Gomez" (VRA) and you can fly here directly from Canada and Europe.
Apart from its amazing beaches, Varadero has some fascinating caves you can explore and a chain of idyllic virgin cays, all close by. There are facilities for all kinds of water sports, including scuba diving, deep-sea fishing and yachting. Cultural attractions include the cities of Matanzas and Cardenas the Zapata peninsula - home to the Ciénaga de Zapata National Park.
Beaches in Matanzas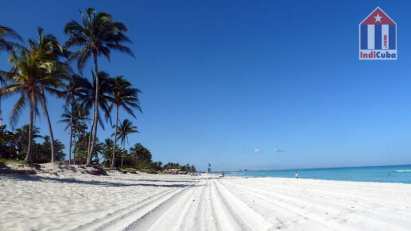 Varadero Beach
Varadero - perhaps Cuba's finest beach - offers over 20 kilometers of dazzling white powdery sands bathed with crystal clear warm turquoise waters. Many believe it to be the most beautiful shoreline in the world.
It's located 140 kilometers from Havana City and has well over 50 hotels and resorts, over 15,000 rooms and 50 weekly flights coming in from Canada alone. There's no shortage of activities in which to indulge here.
Beach "Playa Larga"
Playa Larga is situated in the infamous "Bay of Pigs", where a small number of Cuban exiles landed and attempted to overthrow Fidel Castro back in the 60's. Castro was ready for them and the whole event turned out to be an embarrassing fiasco.

The diving here is spectacular. Expect temperatures of around 25 degrees with 20-30 m visibility. Playa Larga's warm blue waters are home to a variety of species - huge colonies of crabs, lobsters and barracudas.
Bird watching is also popular here in the Montemar Great Natural Park. In the southwest of Playa Larga, you can see many species of migratory waterfowls between November and April.
Beach "Playa Girón"
The beach "Playa Girón", just east of the Bay of Pigs, is also a very popular diving spot. The "Cueva de los Peces" is one of its biggest attractions (for divers). This stunning crystal clear natural pool is over 70 meters deep and just 200 m back from the beach. It's a flooded cave with a collapsed roof with a series of underground passages and many colorful fish.
Matanzas Province is huge and pretty much has everything from beaches and mountains to history and culture. Whether you're planning on staying in a casa particulare in Mantanzas capital or a touristy hotel in Varadero, you're likely to fall in love with this diverse and captivating part of Cuba.
Beaches
Playa Varadero
Playa Girón
Playa Larga (Bahía de Cochinos)
Playa Los Cocos (Bahía de Cochinos)
Playa Judio (Matanzas)
Playa Bacalao
Playa Sucia
Playa Camacho
Playa Caleta
Playa Musulmanes
Private accommodation ("casas particulares")
Matanzas
Playa Larga - Parque Nacional Zapata
Varadero
Jaguey Grande

Train station
Matanzas
Cárdenas
Unión de Reyes
Limonar
Jovellanos
Perico
Colón
Pedro Betancourt
Agramonte
Car rental
Matanzas
Varadero: Aeropuerto Varadero, Hotel Arenas Doradas, Hotel Villa Cuba, Hotel Arenas Blancas, Hotel Cuatro Palmas, Hotel Mar del Sur, Hotel Oasis, Hotel Tropical, Hotel Brisas del Caribe, Hotel Bella Costa, Plaza América, Club Amigo Varadero, Hotel Meliá Varadero, Hotel Sol Palmeras, Hotel Tuxpan

Internet - Public wifi
Matanzas City: Parque La Libertad, Peñas Altas
Varadero: Complejo Todo en Uno, in the hotels