Top-Attractions
The capital Holguin city with its beautiful parks.
Scuba diving and snorkeling on the Guardalavaca beach.
The home of Fidel Castro in Finca Las Manacas (Biran).
Gibara with its history, art, wonderful beaches and friendly locals.
Tourism Holguín

Beaches |
History |
Nature |
Relax |
Christopher Columbus famously described Holguin as "The most beautiful land human eyes have ever seen".
This is Cuba's third largest province and home to a mixture of history, culture, landscape and beach you're unlikely to find elsewhere in the country.
It quite simply has it all.
Holguin is one of the more popular provinces with tourists, mainly because of the beautiful beaches, natural parks and elegant capital city. Fidel Castro spent his childhood here - in the town of Biran.
Capital city of Holguin
Known as the "City of Parks", Holguin is a beautifully green city with a very friendly and relaxed atmosphere. There are six parks in the center of town, which make it a delightful place to stroll through for hours upon end. Holguin city was first settled in by Captain García Holguin. In 1525, he acquired a piece of land here and started to build the Holguin's first houses.
Sights in Holguín
Guardalavaca
Guardalavaca is a modern tourist resort that was built back in the 1980s. It's packed with all-inclusive hotel complexes catering for package holidaymakers. It's just 56 kilometers from Holguin's international airport. Although this mega-resort is a million miles away from everyday Cuban life, it does have its charms. It sits in a very scenic area surrounded by green rolling hills. It also has amazing beaches with excellent scuba diving and snorkeling.
Gibara
Gibara, the "White Villa", is a delightful seaside town with beautiful colonial architecture, pretty squares, crumbling ruins, amazing views and pristine isolated beaches. Its real charm however, lies in the friendliness of the local people. They're extremely proud of their village and history and incredibly welcoming to foreigners.
Beaches in Holgin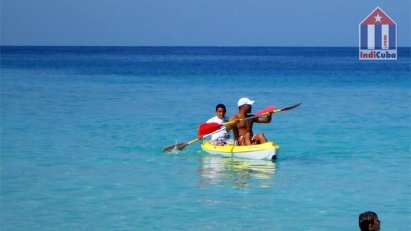 Beach "Playa Guardalavaca"
This beach is about three kilometers long and has amazing turquoise blue waters. The water is warm and protected by coral reefs 300 meters out to sea. It's a popular scuba diving spot and home to a variety of colorful marine life including swordfish and peacock fish. Most of the sites offer dives up to 20 meters. You can also go cave diving in this area.
Beach "Playa Esmeralda"
Playa Esmeralda beach has more than 900 meters of white sand and crystal green water. Warm water all year around with numerous coral reefs - ideal for scuba diving and snorkeling.
Also windsurfing, kite surfing and catamaran sailing is possible. In the nearby Bahía de Naranjo biosphere you can observe dolphins and even have a bath with them.
Playa Esmeralda is about 55 km from the capital city of Holguin.
After Havana province, Holguin is one of Cuba's biggest attractions. It's the perfect location for a city-beach vacation. It has everything - lush green landscapes, white sandy beaches, crystal clear waters along with history, culture and classic Cuban hospitality all under endless blue skies... Hotels and casas particlares in Holguín offer some of the friendliest service on the island.
Sights
City of Holguin
Gibara
Family Finca of Fidel Castro
Beaches
Playa Esmeralda (Guardalavaca)
Playa Bani (Guardalavaca)
Playa Pesquero
Playa Pesquera Nueva
Playa Blanca
Playa Juan Antonio
Playa Velazquez
Playa Gibara
Playa La Concha (Gibara)
Playa de Puercos
Playa del Bajo
Playa Bariay
Playa de los Muertos (El Salado)
Playa Larga (El Salado)
Playa de Puerto Rico
Playa de Morales
Playa Pilon (Bahía de Banés)
Playa Jamaica (Bahía de Banés)
Playa Oliver (Bahía de Nipe)
Playa Juan Vicente (Bahía de Nipe)
Playa Manteca (Bahía de Nipe)
Playa Corinthia (Bahía de Levisa)
Playa Barrederas
Playa Tánamo (Bahía de Sagua de Tánamo)
Private accommodation ("casas particulares")
Holguin
Gibara
Banes
Rafael Freyre
Guardalavaca
Pinares de Mayarí

Train station
Holguín, San German, Floro Pérez, Rafael Freyre, La Canela
Cacocum
Baguanos
Banés
Mayarí
Levisa
Nicaro
Antilla
Car rental
Holguín: Aeropuerto Holguín, Villa El Cocal, Hotel Pernik
Guardalavaca: Hotel Brisas Guardalavaca
Hotel Mira Flores Moa

Internet - Public wifi
Holguin: Parque Calixto García, Parque Julio Grave de Peralta
Guardalavaca: in the hotels