Playa and Miramar and Marianao at a glance
District
Playa and Miramar and Marianao
Top Sights
Rent a vintage car car and and see the old luxury villas in Miramar. Spectacular!
Visit the dolphin show at the Aquario Nacional de Cuba (a must with kids)
Visit the Marina Hemingway. Scuba diving and fishing is possible and by night there are bars and concerts
Accommodation in Miramar is for people with demands!
Accommodation offers in Havana
Tourism Playa and Miramar and Marianao

Culture |
History |
Fishing |
Nightlife |
Relax |
West of Vedado, across the river Almendares, you'll find the luxurious district of Playa & Miramar. Located inside the "Playa" municipality, is this the best residential area of Havana.
With wide streets and grand mansions from the 40th and 50th, Miramar is home to modern and exclusive hotels, most embassies and consulates, fine restaurants, spectacular nightclubs and Cuba's most famous avenue, the 5th Avenue ("Quinta Avenida").
Sights in Playa and Miramar and Marianao
Although Miramar doesn't offer the variety and wealth of monuments and architecture of downtown Havana, there are a lot of attractions, inviting the visitor to spend a day full of fun and new experiences. Discover the tempting offers, including museums, theater, fashion, and various water activities.
---
Foundation for Nature and Man
( Fundaión Naturaleza y el Hombre )
"Avenida 5B" nº 6611
This foundation is home to one of the best museums in Havana. Created in 1994 by the Cuban anthropologist Antonio Nuñez Jimenez, who undertook an expedition of 17,422 km, exploring the Amazons region, the Caribbean and Latin America. The museum contains a fascinating collection of objects donated by Nuñez.
The foundation also has a library and a vast collection of photographs.
Aviation Museum
( Museo del Aire )
"Calle 212" # "Calle 29" & "Calle 31"
For aviation enthusiasts, this is the ideal site. A museum displaying old aircraft and helicopters, and many documents related to the Cuban achievements on this field.
Among their most admired are the Cessna 310, which was used by the legendary Che Guevara, and the spacesuit of the first Cuban and Latin American astronaut Arnaldo Tanayao.
Model of Havana
( Pabellón de la Maqueta de La Habana )
"Calle 28" nº 113
This model of Havana, 22 m long and 8 m wide, is becoming more and more of a tourist attraction. It represents the main areas of the city on a scale of 1:1000. You can distinguish the different stages of urban development, covering the Colonial Period, the Republican Period and the Revolutionary Period of Havana Cuba.
Fairgrounds
( Pabexpo )
"Avenida 17" corner "Calle 180"
This exhibition ground has 4 pavilions, where about 15 fairs a year take place. Among the most visited and popular is the International Crafts Fair, with a great variety and beauty of its articles, manufactured by the best artists and artisans from various countries.
Fun, Leisure and Sports in Playa and Miramar and Marianao
National Aquarium of Cuba - "Acuario Nacional de Cuba" ("Corner Avenida" 3ª & "Calle 62")
If you want to relax and spend a wonderful afternoon, visit the Aquarium of Havana. This place is very popular among tourists and Cuban families who come to enjoy the kings of the water show, the dolphins.
You can also see many saltwater tropical fishes and sea lions. Funny and beautiful.
---
Marina Hemingway ("Avenida 5ª" corner "Calle 248")
The largest marina in Cuba provides a guaranteed 5-star-service. You can spend a relaxing warm and sunny day of fishing in the Caribbean, taking a ride on a yacht with a delicious lunch included.
But even if you don't want to charter a yacht, the Marina Hemingway in Havana is still worth a visit to enjoy the great ambience whilst sipping a mojito. This is one of the most visited and well-known places in Cuba. Don't miss it. On the weekends there are concerts and dance events.
Beaches
"Playas del Este" beaches Havana
Restaurants & Paladares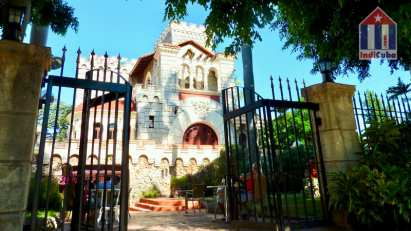 The Miramar district ("Playa & Marianao") has an excellent choice of restaurants and private paldares - probably the best in all of Havana. The range includes the Cuban-Creole cuisine, Spanish Paella, seafood and also pizza. There is the perfect dish for every taste.
The private restaurants in Havana - the so-called "Paladares" are at least the equal to their government-run competition and are often superior. For a reasonable price you get delicious home-cooked dishes here.
Restaurants
Restaurant "Casa Española"
The restaurant "Casa Española" is one of the better places in Havana. In this castle-like building you can enjoy Spanish cuisine (recommendation: Paella 2 for Persons). The waiters are courteous and the prices are acceptable. Only the imported Spanish wines can push up the bill quickly.
Restaurant "La Ferminia"
Excellent restaurant, located in a former private villa. You can have your meal surrounded by stylish, antique furniture or in the garden of this beautiful restaurant in Havana. We recommend the house specialty - grilled meat with veggies.
Restaurant "Don Cangrejo"
Fresh fish and seafood dishes with sea views: lobster, mussels, squid. In the "Playa" zone "Don Cangrejo" is a classic among the seafood restaurants in Havana. The food is fine, but the reputation of this restaurant has also been reflected in the prices.
Paladares
Paladar "La Fontana"
An excellent restaurant in Havana Miramar district. Dishes made with fish and meat from the charcoal grill, served on the spacious terrace. You will be pleasantly surprised by the variety of dishes and the imagination of the chefs.
Paladar "Vista Mar"
Paladar restaurant with sea views towards the Bay of Havana: The "Vistamar" paladar is located in a former private villa by the sea. The price / performance ratio is excellent here, and you won't be disappointed by any of the delicious seafood dishes.
Paladar "La Esperanza"
Embark on a time travel and dine in a fashionable 40s atmosphere. The decoration is unique and the food excellent. Among the highlights on the menu you'll find the highly recommended flambé chicken and fish in wine sauce.
Bars & Clubs
There is a lot of going on after sunset in Miramar district of Havana including "Playa" & "Marianao" borough's. Top-class bars, clubs and discotheques attract the revelers. We all heard about the magic "Club Tropicana". This world-famous nightclub is housed in the "Marianao" municipal in Havana and continues to attract large numbers of visitors every night, wishing to catch a glimpse of the "Golden Fifties".
Here some recommendations for nightlife in Havana district of Miramar:
Bars
"Dos Gardenias"
Piano Bar, located at the "5ª Avenida" main street in Havana Miramar. The program includes "Bolero" music - romantic songs. Often live performances.
"La Maison"
Stylish bar in an elegant colonial-style villa. Often there are fashion shows, where Cuban fashion designer show their last collection.
Nightclubs
"Club Tropicana"
"Club Tropicana", that means the best Cabaret Show with the best dancers in Cuba. Experience an unforgettable night, and feel like you're in the Havana of the fifties. Whoever brings the necessary change (ticket costs: about 70 CUC), shouldn't miss a visit in this legendary nightclub in Havana - even if mass tourism has already left its mark.
"Casa de la Música" Miramar
The evenings in this famous and popular nightlife location in Havana Miramar district normally start with live music followed by salsa dancing. The later it gets, the hotter the atmosphere. Party goers abound right here.
Sights
Foundation for Nature and Man
Aviation Museum
Model of Havana
Fairgrounds
Fun & Leisure
National Aquarium of Cuba - "Acuario Nacional de Cuba" ("Corner Avenida" 3ª & "Calle 62")
Marina Hemingway ("Avenida 5ª" corner "Calle 248")
Public pools
"Hotel Occidental Miramar"
"Hotel Panorama" ("Playa" municipality)

Beaches
"Playas del Este" beaches Havana
Hotels
"Hotel Panorama"
"Hotel Neptuno Tritón"
"Hotel Copacobana"
"Hotel Meliá"

Tourist Office
Tourist office "Hotel Panorama"
"Infotur" office "Calle 3" street / corner "Calle 28" street
Money Exchange
in the big hotels - e.g. "Hotel Occidental Miramar"
"Cadeca"Miramar ("5ª Avenida" nº 40 & 42)

Shopping
"Miramar Trade Center" (various shops)
"Casa del Habano" (cigars)
"La Maison" (designer fashion)
Hospital
"Clinica Central" - "calle 20 nº4101" / corner "Avenida 41" (Bezirk "Playa")
"Hospital Frank Pais" ("Ave. 51 Nº 19603 e/ 196 y 200")
"Hospital de la Maternidad" ("Linea"/ corner "Calle G")
Car Rental
Hotel "Occidental Miramar"
Hotel "Panorama"
Hotel "El Bosque"
Hotel "Kohly"
Restaurants
Restaurant "Casa Española"
Restaurant "La Ferminia"
Restaurant "Don Cangrejo"
Paladares
Paladar "La Fontana"
Paladar "Vista Mar"
Paladar "La Esperanza"
Bars
"Dos Gardenias"
"La Maison"
Nightclubs
"Club Tropicana"
"Casa de la Música" Miramar