Top Sights
The unique nature and landscape of the Vinales Valley
Explore caves in the surroundings of the village.
Horseback riding through the meadows of Vinales
A visit to the surreal prehistoric wall
Accommodation Offers in Vinales
Tourism Vinales
Culture |
Nature |
Relax |
Viñales is a small and peaceful town located in the north-central part of Pinar del Río province, about 26 kilometers north of Pinar del Río city. It dates back to 1878 and was once home to a large population of runaway slaves.
Not only is this Fidel Castro's favorite part of Cuba, it's also where they produce, what's unquestionably, the finest tobacco in the world!
Nowadays there are an estimated 8,000 people engaged in growing tobacco here and (in true Cuban style) growing methods have remained unchanged for centuries. Tobacco processing is still done by hand using field workers and animal traction. There's no fancy machinery here. Apparently, modern mechanical methods will reduce the quality of the tobacco, so the old ways have been preserved in order to create Cuba's legendary cigars.
Viñales town is set amongst some of the most spectacular natural scenery in Cuba, with lush green valleys and magnificent landscapes. The world-famous Viñales Valley has been listed as a UNESCO World Heritage Site since November 1999.
The town itself consists mainly of quaint one-story houses with grand colorful porches. Tourism is on the rise but Viñales still retains that distinctive Cuban old-world charm.
A far cry from the hustle and bustle of Havana or some of the other Cuban cities, this sleepy little village, with its unique rustic charms, is the perfect Cuban Hideaway!
Tourism in Viñales city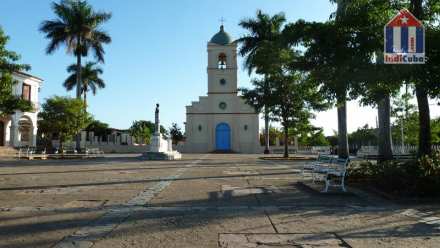 There's a surprising amount of things to do and see in and around this small town. Probably the biggest attraction in the town is the main street itself - Calle Salvador Cisneros, which was named after the legendary leader, Salvador Cisneros Betancourt.
Salvador was a leader in the war of independence from 1868 to 1878. He later went on to become the President of Cuba in the late 1800s.
The central plaza is also well worth checking out. The Casa de la Cultura puts on shows and events here daily, everything from fashion to events for the kids.
On Saturday mornings they have a superb farmer's market!
Mural de la Prehistoria
The Mural de la Prehistoria is located just a few km outside town. This surreal cliff art was commissioned by Fidel in the early sixties. It's not exactly very beautiful but it's interesting to look at and is a stark contrast to the surrounding landscape. There's also a restaurant, bar, and gift shop here.

For more active pursuits, you can also try bird watching, horse riding, caving, hiking and climbing. Alternatively, why not try a tobacco farm tour or hire a motorbike and explore this lovely part of Cuba for yourself. Don't forget your passport!
The two closest beaches to Vinales are Cayo Levisa and Cayo Jutias – both located in Pinar del Río Province. Cayo Levisa offers pristine turquoise waters and soft white sands bathed by a warm balmy climate all year round. It's a picture-perfect Caribbean paradise, which is only reachable by boat.
The closest beach to Viñales is Cayo Jutias. It's another Caribbean gem with soft sands and clean warm waters. The easiest way to get here is by private taxi from Viñales. Tourists have to pay a small entry fee. You'll need your passport!
Further a field is the world-famous Maria La Gorda. A Mecca for scuba divers and snorkelers, this underwater paradise is well worth making the effort to get to.
Cayo Levisa
Cayo Jutias
Maria La Gorda
Restaurants und Paladares in Vinales
There are a number of top quality restaurants in Viñales to choose from. Here's a few options:
Restaurants
Casa de Don Tomás
This is the oldest house in Viñales and was once the most popular eating spot in town. The food is still delicious! Try the rice and lobster dishes. You wont be disappointed!
Las Brisas
This place serves up some excellent deep fried chicken at very cheap prices. Great if you have the munchies and are on a budget!
El Estanco II
This fast food place is located about 1 km outside of town and serves pizza, spaghetti and beers.
Paladares
Paladar Tatio
Serves mainly Creole cuisine and excels in terms of quality service and (mostly importantly) deliciousness!
Paladar La Cabaña
Offers great food in a nice family atmosphere. Very good value for money.
Nachtleben: Bars & Clubs in Vinales
The nightlife here is fairly low-key. It's more of a chilled out scene. There are a few small bars on the main road through the center of town, where you can relax with a beer or two (Cuban style). Every so often, there are concerts at Casa de la Cultura, Patio de Polo Montañez and Patio del Decimista.
Hotel Los Jazmines and Hotel La Ermita
These hotels can get quite lively but the atmosphere mainly depends on the type of guests that are staying there.
Cueva de Viñales
Probably the best place for nightlife in Viñales is in the nearby Cueva de Viñales. What could be cooler than a pumping disco located in a cave! It's loud, full of locals and loads of fun!
Anreise nach Vinales
The local bus company (Viazul) runs buses two times a day from Havana and Pinar del Río. You can also get here by bus from Cienfuegos and Trinidad.
Once you get here, you can take a green minibus tour, which goes for a spin around the main sights, stopping at the main tourist hotels. For around 5 CUC you can ride all day long.
Weather & climate in Viñales
Viñales and the surrounding Valley has a tropical savanna climate characterized by both a dry and rainy season with warm temperatures all year long. Coffee and tobacco thrive here. The rainy season runs from June till October. When it rains here, it pours! Don't worry though, it never lasts long and can be a welcome respite from the high humidity.
Sights
Tourism in Viñales city
Mural de la Prehistoria
Beaches
Cayo Levisa
Cayo Jutias
Maria La Gorda

Hotels
Hotel "Las Jazmines"
Hotel "La Ermita"
Hotel "Rancho Horizontes San Vicente"
VIAZUL Bus Stop
Bus stop and ticket in the main street Calle Cardenal Cisnero 63A

Car rental
on the main street and in the hotels
Tourist Office
Information you get at the "Cubanacan" office on the main street
Money Exchange
The "Cadeca" branch you have right on the main street
Internet
Wi-Fi zone by the church in the city center
Restaurants
Casa de Don Tomás
Las Brisas
El Estanco II
Paladares
Paladar Tatio
Paladar La Cabaña
Bars & Clubs
Hotel Los Jazmines and Hotel La Ermita
Cueva de Viñales