Casa Particular with 2 rooms and a large outdoor area
2 rooms

4 persons max.
2 double beds
| Persons | Rooms | Season | Price |
| --- | --- | --- | --- |
| 2 | 1 | always | 35.00 EUR |
| 2 | 2 | always | 70.00 EUR |
| 3 | 2 | always | 70.00 EUR |
| 4 | 2 | always | 70.00 EUR |
The Casa Particular "Tere's home" is located in the western part of the Municipality of El Vedado in Havana in a quiet and green area. Tenants have a large terrace and many other sitting areas are available.
This accommodation is suitable for people who are looking for a quiet place to relax in the very busy tourist part of the Cuban capital. Nevertheless, you live here just off Calle 23, which takes one directly to the center of Vedado Havana, where plenty of restaurants, clubs and bars can be found with show program.
The two rooms in "Tere's Home" for rent are each equipped with a double bed.
Each room hast its own private bathroom
Throughout the house are several seats, so that everyone can find a place. The highlight is definitely the large terrace with chairs and table, where you can chat in a relaxed atmosphere, with food and drinks.
Señora María Teresa, the gracious host, in one of the best parts of Cuba Havana, serves its guests on request, a rich breakfast and main meals, which are prepared according to the wishes of the guest.
An apartment in a quiet, green area, close to the busy center of Vedado.

Room equipment
Private bathroom
Air conditioning
Private area (other than the room)

Community area

Services & Prices
Laundry Service: ~ 0.25 - 2.00 CUC
Transport


Airport
VIAZUL Bus
ASTRO bus
Tourism

More holiday rentals in Havana
Tere's home
Calle 24 357
10400
Havana
LHA
Cuba
+53
35.00 CUC EUR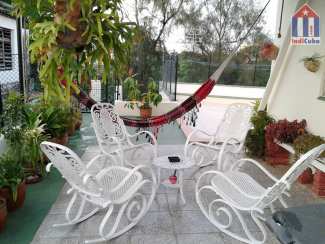 Casa Particular with 2 rooms and a large outdoor area - Persons: 1-4 persons max.
Click here for a map.
Lodging features:
Number of Rooms

Number of Double beds

Private Bathroom

Air Conditioning

Parking

Terrace

Terrace
https://indicuba.com/en/casa_particular_cuba/havana/teres_home.html