Apartmento "Casa Rosario"
Casa particular with private entrance, pool and sea views
1 room

2 persons max.
1 double bed
| Persons | Rooms | Season | Price |
| --- | --- | --- | --- |
| 2 | 1 | low | 20.00 CUC |
| 2 | 1 | high | 30.00 CUC |
High season:
January February March April July August November December
Upper floor holiday apartment near the Bay of Puerto Padre. Here you rent a private apartment accommodation with its own lounge, dining-area, open kitchen, bedroom, bathroom, terrace and balcony. The upper floor is exclusively for the tenant.
You have sea views from the balcony and the terrace. Also from the room you can see the cost. For maximum privacy the teneant has a separate entrance.
Also you have a pool in the courtyard of the house. Perfect for relaxing on hot days. And there are...
The bedroom has a double bed, air conditioning, fan, refridgerator and private television with DVD player.
The bathroom is equipped with a spacious shower with hot water, a sink and WC.
Apart we have the living room with sofa and chairs and the dining room with open kitchen and TV.
If you wish so, the landlord offers breakfast.
Parking in the garage of the house is included.
A perfect option for your stay in Puerto Padre with a maximum of privacy!

Room equipment
Private bathroom
Air conditioning
Fan
TV
Fridge
Hi-Fi
DVD
~110V/220V
Private area (other than the room)
Living room
Kitchen
Private entrance

Services & Prices
Transport
Tourism


More holiday rentals in Puerto Padre
Apartmento "Casa Rosario"
Francisco Vicente Aguilera 27
Puerto Padre
LTU
Cuba
+53
25 - 30.00 CUC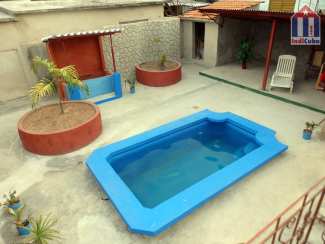 Casa particular with private entrance, pool and sea views - Persons: 1-2 persons max.
Click here for a map.
Lodging features:
Number of Rooms

Number of Double beds

Separate Entrance

Private Bathroom

Air Conditioning

Parking

Terrace
https://indicuba.com/en/casa_particular_cuba/puerto_padre/casa_rosario.html