Hostal Isidro (El Musico) y Diana
Hostel with private terrace - close to the center
1 room

2 persons max.
1 double bed
| Persons | Rooms | Season | Price |
| --- | --- | --- | --- |
| 2 | 1 | low | 20.00 CUC |
| 2 | 1 | high | 25.00 CUC |
High season:
January February March April May November December
Only a little north of the main road of Vinales is this private accommodation of Señora Diana. It offers a guest room with separate entrance and private terrace.
The room has a double bed, so it is suitable for one person or a couple.
Right next door you have your own bathroom.
There are 2 terraces:
1 terrace in the portal of the house with rocking chairs
1 terrace only for customers behind the building

The culinary offer includes a rich breakfast and delicious main courses for lunch and dinner.
The hostess Señora Diana will also give you the best tips and recommendations for excursions and places to visit in the Vinales Valley.
You can park your rental car free of charge.
In the immediate vicinity of the Casas are the bars, restaurants, bus stop and state travel agencies, where you can also book tours.
Discover the valley of Vinales in Cuba!

Room equipment
Private bathroom
Air conditioning
Fan
Private area (other than the room)
Living room
Private entrance

Community area

Services & Prices
Laundry Service: 0.20 - 0.50 / p. CUC
Parking included
Internet
Transport

Tourism


More holiday rentals in Vinales
Hostal Isidro (El Musico) y Diana
Calle 1ra (= Calle Primera) 7
22400
Vinales
PRI
Cuba
+53
20 - 25.00 CUC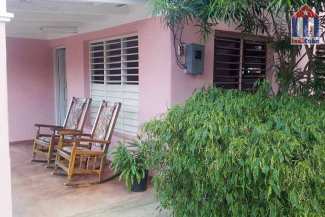 Hostel with private terrace - close to the center - Persons: 1-2 persons max.
Click here for a map.
Lodging features:
Number of Rooms

Number of Double beds

Separate Entrance

Internet access

Private Bathroom

Air Conditioning

Parking

Terrace
https://indicuba.com/en/casa_particular_cuba/vinales/casa_isidro_el_musico_y_diana.html